When Russ Heath was chosen to illustrate the new syndicated Lone Ranger strip in 1981, he soon got a call from Amber creator Doug Wildey. "Any illustrated strip is going to fall behind deadlines, and you will call your artist friends (to help), and stay up working all night," exclaimed Wildey. Heath soon found out how true that was, after only a few short months. Russ later said, "He sure as HELL was right! I called on Doug to help, and I called on others...If you've never had a syndicated strip, you just can't imagine what it entails...I had no time for exercise and put on thirty pounds."This almost forgotten feature that followed on the heels of the movie revival, The Legend of the Lone Ranger, debuted on September 13, 1981. Giving the feature one final strip incarnation of Fran Striker's world famous Western hero, created for a 1933 Detroit radio show. We all know the story right? West Texas in 1880... a group of six Texas Rangers lead by Captain Dan Reid rode towards a gap in the mountains...there Butch Cavendish's Gang launched a surprise ambush...and when the dust settled and the battle was over...all the Rangers were dead except the Captain's brother, John. Nursed back to health by his Indian friend, Tonto, John Reid took on a mask and vowed vengeance against all evildoers. This lone survivor...this Lone Ranger. (Which was actually the biggest misnomer in comics since Tonto was just as important in the strip, not to mention their beloved horses, Silver and Scout!)

The first artist to draw the famous lawman in 1938 was Ed Kressy, which most fans believe looked awkward at best in his adaptation of the material, but it had some great scripts by Striker. It was followed shortly by a brief interim stint illustrated by Jon L. Blummer, whose unigue style I really enjoyed. But the artist most fans remember and recognize today for the Lone Ranger was artist Charles Flanders, and his thirty-three year run on this Western legend. Better than most who drew the feature, it hit its peak in popularity in the mid-forties before slowly sliding down in quality to develop the look of a cheap grade-B Western (with no sets or background atmosphere of any kind). There was a boost in the title when writer Paul Newman and ghost artist Tom Gill did some later Sundays, as there solid teamwork had shown on the popular Dell Lone Ranger comic book. Although the strip seemed to be getting better with time, it still could not stop cancellation by the syndicate in late 1971. But hold on there folks, for the best artist and writer team is yet to come!

After searching for the right talent, the New York Times Special Features Syndicate finally chose comic book artist Russ Heath and longtime DC writer Cary Bates to produce the work. The strip even had a unique opening (breaking with most strip precedent) when the first daily just continued the storyline from their Sunday page the day before. Of the other creators who tried out for the new feature, only Gil Kane (who did the Aurora's 1974 Lone Ranger model kit illustrated comic) was considered a rival to Heath's skill and precision with Western subjects. Some of those rare Kane tryout dailies and Sunday still exist, though most of the Heath/Bates material was discarded by the syndicate making the art harder to obtain. I've had one daily I picked up a few years ago, and can tell you the quality was as good or better than any other Heath art I 've ever seen. I though these originals were difficult to find, until Heath consigned his work to a local auction house, so now some fantastic example have recently surfaced. However, you sometimes have to search for a good piece with the Ranger, since he was disguised in many of the storylines, and then his trusted scout Tonto was wonderfully showcased.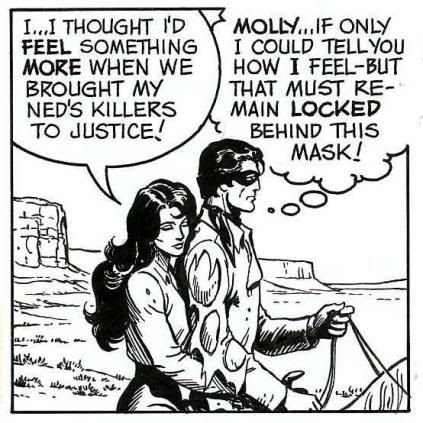 Clearly the best artistic team to ever produce the feature, unfortunetly, the Lone Ranger really never got its due. Published in no more than sixty papers at the height of its all too short two and a half year run, it ended on April 1, 1984. Most of us never even saw this beautiful strip the first time around, unless you lived in larger cities like Seattle or San Francisco. And when you did see the strip, the Sunday format usually lost its top tier splash panels, being cut down for space in many of the papers, so readers just missed out on what Heath was trying to do altogether. You can see that Russ put his heart and soul in the work, spending up to twelve to fourteen hour a day at the drawing board. Yet the high quality of art and writing was as fresh and alive the last day of the strip as the first day they started. Heath had his hand in all aspects of production, working his rich and detailed style on the preliminary sketches, pencil layouts, color proofs, test pages, as well as keeping up the penciling and inking the strip.



If not for Greg Theakston's fantastic Pure Imaginations black and white Lone Ranger reprint from 1993, most of us would never had the pleasure to read these delightful stories, unless you collected dailies or haunted some library newspaper vault. But don't take my word for it, just check out thes panels provided and that last Sunday page as the Lone Ranger and Tonto ride out into a sunset for the final time, with none other than Heath and Bates saying good-bye.